With walking sticks during the Festival? Why not?
---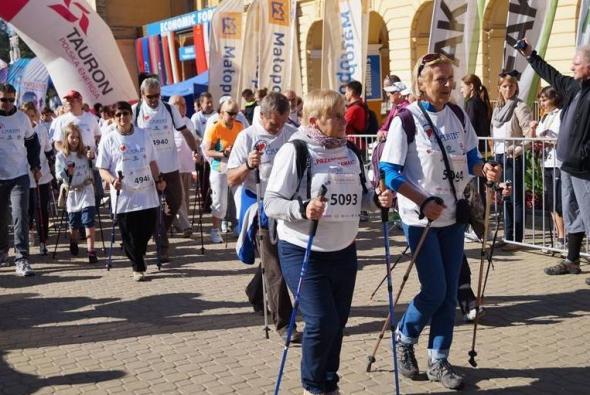 Saturday morning in Krynica Zdroj was quite chilly, but it was perhaps this weather that motivated the Nordic Walking passionates to put some effort. At 8 the Championship of Poland in mountain version of this discipline started, while at 9.30 a race of people who experienced heart infractions began.
Nordic Walking race for those who experienced hart-infractions
This race was not about time. Nordic Walking enthusiasts told their hearts to march.
Justyna Kowalczyk was a starting referee of this event with a catchphrase "Take over your heart attack!". A crowd of athletes in white t-shirts walked the distance of over 1600 km. Nobody measured time, nobody speeded in last meters. Everybody was a winner, because all the participants won something much more valuable than a medal, i.e. their health. 'In 2011 I had a heart attack. The doctors gave me a stend', said Leszek from Gorlice, 'Before, I had been very active, and even now, this year I hiked to Turbacz. I like walking and with great pleasure I came here. Next year, I'd like to be here as well. Sport is a great to heal and get back in shape.'
Halina from Tarnow is of similar opinion. She also took part in the march: "Sport is a best way to stay healthy. I gave problems with blood pressure so I took up Nordic Walking as profilactic measure. Before, there had been no time for sports, only work and other responsibilities. My doctor convinced me though to walk with sticks', explained Halina.
II Polish Championships in Mountain Nordic Walking
Apart from marches for enthusiasts, Nordic Walking Polish Championships were organized. Pekosz family dominated this competition. Irena Pakosz won among women, and her son Piotr won the male race. If somebody associated athletes with sticks with strolls in the parks, the speed of the competition must have been surprising.
'Nordic walking is very demanding', said Polish Champion, 'You had to climb Parkowa Hill which required a lot of effort and determination. If one puts an effort and walks as fast as one can, then believe me, one gets very tired. I know plenty of people who can't run for various reasons and Nordic Walking is perfectly suited them', added Pekosz.
The domination of Pekosz family in Poland might last a long time. Together with son and husband, Tomasz Brzeski, they not only start in the competition but they put a lot of energy in preparations: 'Anything we do, we strive for the best and we're determined to be the best', said Irena Perkosz. She and her husband were to be heard at the lecture during "Forum, Health, Money" on Sunday.
See also:
---