Thousands ran with just one quest to beat thiers personal bests
---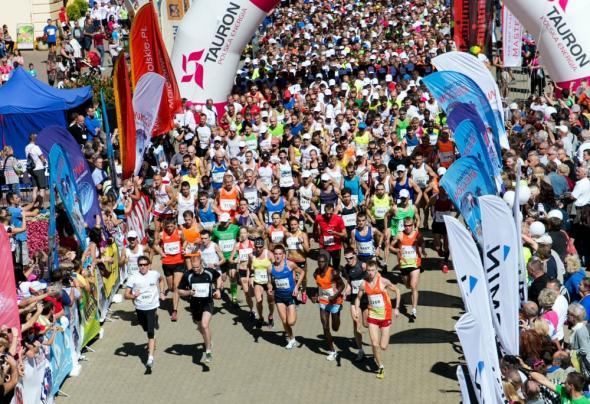 More than 1,800 athletes took part in the Lifetime Ten TAURON Run - the fastest run on a distance of 10 km being organized in Poland nowadays. The course descending all the way to the finish line favors beating your personal best. Justyna Kowalczyk was among the lucky ones who achieved that goal.
The competition started at noon. After a short warm-up the participants headed through the Promenade toward the Muszyna city. While the leading runners quickly disappeared from our sight, the rest of the racers had to slow down due to so called  "traffic jam". The "Rush Hours" were soon to pass allowing athletes to continue their efforts. 
It was not easy. In full sun and with 28 degrees many had to give up – the  finish line was reached by 1739 athletes. Plenty of them with a much desired result - new personal best.
Artur Kozłowski from Sieradz - winner of the open race:
We had to get tired, tired up to our limits and I'm a good example of that. I felt really well-prepared and therefore in the end I managed to achieve a good result. I did not expect to win, but my expectations were risen by an information that the Kenyans ran in Koszyce yesterday and now during my race they should have been very tired. My tactics on that course proved to be in 100% successful: being in the group of runners at the start and then a strong finish at the end.
Awid Metto from Eldoret - the second in the open race:
The heat was a disturbing factor during the run. The route itself was also challenging because the sloping terrain "devastates"  my knees deeply. I prefer the flat routes but still here the second place sounds good to me after all.  
Marcin Cieplak from Rybnik:
I wanted to start at ease and to finish the race in a same manner. And so it was, but to be completely happy I would have run 5 seconds faster. My friend Tomasz, he was better this time. It's a pity for me, but I have to congratulate him on an elegant finish. I achieved my personal best, but I will not take it into account in my statistics. Profile of that route deviates from the standards. I will keep on fighting for my personal best on flatter routes.
Rafał Ulfik from Zabrze:
Contrary to its first appearances the route is very difficult. Till the half of the distance we have a strong slope, which does not foster in maintaining the equal pace at all. But I had my new personal best – 34:08.
Matylda Szlęzak from Krakow:
I managed to recover after yesterday's races, which were not so demanding as this one is. 10 k run is new to me - my "natural environment" is a runners track within the limit of 5 kilometers.  A debut was tough but successful. Last but not least, I've got my new personal best!
Justyna Kowalczyk from Kasina Wielka:
Very cool atmosphere and a nice run too. I really wanted to be a part of it and I was not disappointed. New personal best set - 35:07.
Mariusz Bugajniak from Włoszczowa:
Each run is supposed to be tiring and so was this one. In the morning it was just 2 degrees, but at noon it reached 25. But it was ok. Personal best was beaten and with a quite impressive  result: before it was 41:14, now it is less than 40 minutes.
Izabela Zatorska from Limanowa  - champion of the mountain races:
An hour before the start I had finished the Parkowa Mountain Run – tiring, but short, with a very large terrain elevation. The effort of climbing up was felt in my legs. But I wanted to run, because the Lifetime's 10k TAURON Run is a great performance. I wanted to win in my category, and probably I did.
Snizhana Rybak from Leszno:
It's too hot here. During the race it was windy, which helped us a lot in such a sunny day. My personal best was not beaten this time, maybe next year it will be better.
Magdalena Bielec:
Down the hill it was a nice run. But the most pleasant factor was the cheering along the route by the people of Muszyna city. Children supported me with strong applause and "high fives". That was great! Personal best was probably achieved, but I prefer to wait with this declaration until I see the final results. Previously I had: 42 minutes 40 seconds.
Martyn Wiśniewska from Rumia:
Such routes are not easy at all. At the beginning one is pushing forward and then you got to fight with yourself just to finish it. It was great fun afterwards. I didn't reach my new personal best -  I was 16 seconds below it.
Arkadiusz, Karolina and Zosia Tołocznko from Jelcz Laskowice:
Kids' trolley – it sounds like recreation to us. Zosia has bravely endured all the route's hard times and eventually she felt asleep. The trolley was a light one. Going downhill - a simple pleasure.   
Recorded in Muszyna city by GR
See also:
---