On Sunday morning children conquered the Promenade
---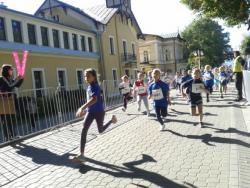 On Sunday morning children conquered the Promenade. Warm days favored the physical recreation outdoors. There was laughter, tears, emotions that we rarely experience during seniors' races. Although the distances were short, the emotions were huge.
Young champions gathered in the outer Kids Zone nearby the fountain. Why champions? Because each participant is already a true winner.
 After a short briefing a running judge walked with the youngest runners at the start point at 9:30 AM and then the competition for 7-year-olds began, in which girls competed with boys at a distance of 300 meters. The youngest children were allowed to run with their parents.
We had few collapses, as usual in 'the heat of the battle", but children (sometimes with tears ) stood up and kept on running, because a medal at the finish line and a cheering crowd compensated everything. - The whole contest is great, I like it because everything is so colorful too - said the 7-year-old Krzys. He was strongly supported by the 6 and a half-year-old Oskar - It was cool, we run really fast, but in addition to running I also like playing football and of course scoring goals – the boy admitted afterwards.
Shortly after the 7-year-olds, we had a takeoff for 8 and 9-year-old children. Among girls, the first at the finish line appeared Bianka, for whom running is just fun, as she is a staunch supporter of judo martial art. During the course of the race we were competing a lot and it was only on the final meters when I managed to outrun the other girls.  Bianka stated that she started running just because her parents loved that sport and they took her with them all the time for such events.
In the division of the 11-year-olds on a distance of 600 meters the winner was a boy - Szymon Rygiel, who is also a Polish Champion in his age category in a mountain running. Szymon reported to us: It was hard. At the first part of that race I was only the third but at the end I overtook these 2 guys and won. At the end of the tournament we could cheer the 13-year-olds in their run.
Leaping into the future, one can add that such children-focused runs like Promenade's race, do create an excellent opportunity for the young ones to  start their adventure with running. Perhaps due to that experience they will continue their adventure with sports in future.
See also:
---