The summit of the Running Festival ambassadors
---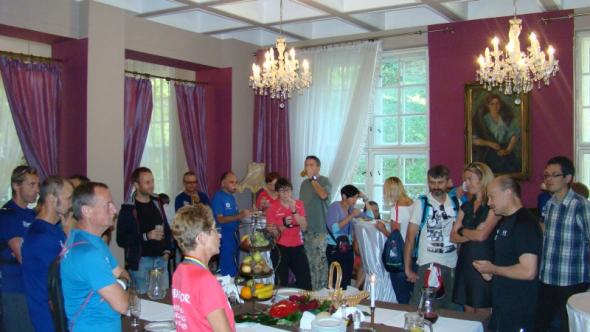 Tradition was served. As every year, the Running Festival ambassadors met in Krynica. They shared a few moments in the restaurant to talk, exchange experience, and ... receive awards.
They gathered in the restaurant Małopolanka at 15.00. There was no particular dress code, but the sports outfit was welcome, especially that some of them were still going to compete in various categories on that day.
In addition to delicious meals on the table, there were surprises, the most interesting of which was drawing invitations to Rome.
– The whole Poland is running here – says Marek from Tarnow. – I've been with Krynica since the first edition. The Running Festival is growing rapidly and let's hope it will keep it up. Most of us, the ambassadors, know each other – he said. Magda, another participant, says she has been the ambassador for three years. – We always recognize each other in various competitions by the blue T-shirts. Then it is easier to make contact. We are not so numerous, though I haven't managed to get to know everyone yet – she adds.
What is the future of ambassadors? – Each project needs support in such contacts when completely informal situations are created. Without emotions, without attachment there is no success. Our offer is open, because the festival is a large undertaking, addressed not only to the best – affirms Zygmunt Berdychowski, founder of the Running Festival.
There is a chance that a meeting of ambassadors will take place again this year in Warsaw.
See also:
---