A new course record in the Koral Marathon!
---
Thu, 12/09/2013 - 15:33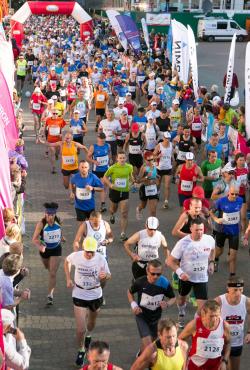 Koral Marathon was won by its favorite: Biwot Wycliffe Kipkorir. Kenyan set a new course record - 2:23:53.
- Last year I was third. This year I was able to win. I am very happy. I did not expect the record, because this is a mountain route. But I like to run around the mountainous terrain. The route is challenging, so you need to try harder. 19 kilometres I ran with the runner from Ukraine, but then I carried out myself - said Kipkorir .
Taras Solo from Ukraine has not lost sight of the Kenyan and reached the finish line with the time 2:24:21 . – This was the first time I took part in the Koral Marathon. I did not know what to expect, but I loved it. It was not easy, route profile was very demanding - said the Ukrainian.
The best Polish runner: Kamil Sieracki from Inowrocław, finished on the third place. Kamil debuted in Krynica a year ago. Then he finished the competition in 14th position. This time, he started slowly and has not engaged in direct combat with rivals. Kamil can still surprise us in the next edition of Running Festival. To Krynica, he came after an injury. Additionally, he ran the sunny road, which did not suit him .
- I'm really happy with this position. The conditions were very difficult. I started on here a year ago and I knew exactly what to expect . It turned out that I was right. On the 38th kilometer, which is on the hill at Roma Hill, I thought I'd walk. I had two such moments in which I had to stop. Fortunately before that,  I was able to work out my advantage – said Kamil Sieracki
The first woman to finish was Damiela Cirlan Elena, who took seventh position overall.
- It was hard. I had trouble between 36th and 39th  kilometer . There were a lot of climbing. Fortunately, I found conditions to be perfect for running. I love the heat and windless weather. The main thing is that I won the women competition- said Romanian at the finishing line.
IB
See also:
---