Hungarian victory in 7 Valleys' Race
---
Thu, 12/09/2013 - 15:35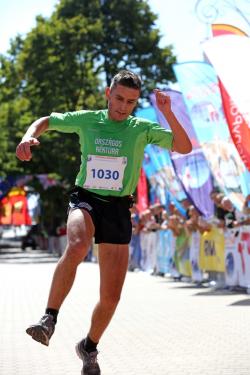 Hungarian runner Nemeth Csaba, like a year ago, won a 100-kilometer route of 7 Valleys' Race, completing it this year with 8:57:38 time. On the finish line he did not show any signs of fatigue.
Csaba is an experienced competitor in mountain runs. He has run Spartathlon, took first place in the UTMB as well as in Lavaredo. Last year in Krynica he reached 8:51:10 time, even though it was only six days after a grueling race in Chamonix. This year it took him 6 minutes longer to make ​​a hundred, but still he finished 7 Valleys Run in less than nine hours.
- It was a tough race. Polish runners are in really good shape and are well prepared for the race. A large part of the route we follow thick on each others' heels and I had to try hard to stay ahead of competitors. Fortunately, the day was just made for running. Particularly the brisk morning was of much help. I am satisfied with the result - Nemeth Csaba said after the race.
See also:
---