The fourth Running Festival full of prizes
---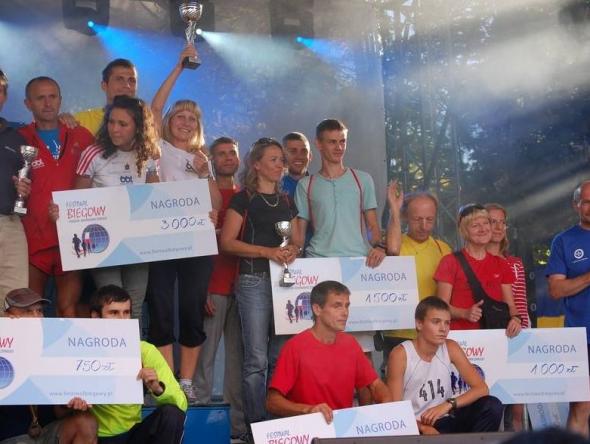 You could have an impression during the awards' ceremonies of Running Festival that hardly anybody left Krynica empty-handed.
All together during the three days of the Running Festival the participants have won prizes of total value of 450 thousands zloty. In the lottery two Fiat cars were drawn and they were won by Kamil Krupa and Izabela Komar. The biggest prize waited for the winner of 7 Valleys' Run – 15.000 zloty
Winner of the Koral Marahton received 6000 zl.
Not only winners were awarded cup trophies, prizes and cash, competitors in different age classifications were awarded prizes and cash. For instance, a first place in such category in Koral Marathon was worth 500 zloty. Everyone who was at the podium was applauded, heard trumpets, and all photographers hade their five minutes.
Professionals as well amateurs regretted that the Running Festival came to the end. The only consolation for them was that the next edition will take place in one year time. 'I recommend this place for those undecided, there are interesting runs and variety of interesting accompanying events. We can find here a good atmosphere to meet other runners.', said Kamil Sieracki, third place in Koral Marathon after receiving his prize.
There is nothing to do but train hard and come to Krynica next year.
See also:
---