Fancy Dress Run - great fun and a lot of laughter on Krynica's Promanade
---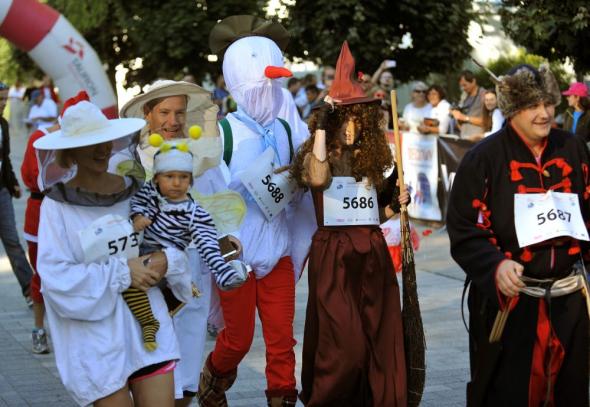 On the first day of the Festival one of the most colorful runs in our country took place on. At the start of the Fancy Dress Run there was a number of celebrities: Smurfs, Amor and the Master  from Once Upon a Time... Life, Pharaoh, and many others. What was really taken into consideration was not to speed but just having fun.
The first place was awarded to a man in a stork costume, Cupid took the second place and the third place was awarded to the cowboys' family.
In total, the run attracted more than 60 people. Time was not officially measured. Anyone who completed the run would receive a commemorative medal. But the joy of participation was greater than the discomfort that the outfits caused.
- My costume weighed 20 kg. I have never trained before in the costume. In fact, I thought I would almost suffocate in it, but the experience was awesome. When I wanted to breathe, I could not see a thing but when I looked, I could not breathe. From the other fancy dresses I liked Jar very much - said the Master of " Once Upon a Time... Life".
Although most would run for fun, there was in the crowd the very serious face of an American Indian, whose race was of a completely serious nature ... howgh!
- I wanted to honor the memory of Stanislaw Supłatowicz whom the older TV viewers may remember from "Teleranek". It was a great character. He was the son of an exile to Siberia who escaped to Canada via Kamchatka. There she married the leader of one of the American Indians tribes and Supłatowicz was born. Being a teenager he came to Poland, then was a partisan . He was also awarded the Cross of Valour - said Janusz Kochman the author  of the dress commemorating Stanislaw Supłatowicz.
See also:
---