Celebrities ran up the Parkowa Mountain
---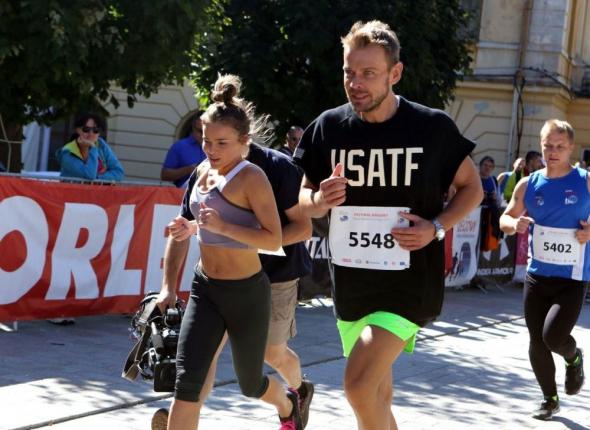 David Wolinski, a fashion designer, and Edith Herbuś, an actress, joined the Parkowa Mountain Run to be held in the framework of the 9th edition of the Małopolska Mountain Running.
It was David Wolinski's first professional start in his life. – They were Edyta Herbuś, Endomondo and T- Mobile who encouraged me to take part in the event, as we all collect miles for children in need - he said at the starting point. He jointed the elimination race both with a little bit of joy and of fear. – I am not sure if I manage not to give up just a few hundred meters away, over there, next to those flags – he added half jokingly half seriously.
Edith Herbuś emphasized the charitable purpose of her taking part in the race.
- Both celebrities managed to reach the finish line and they were not the last ones to reach it at all - tells Dominic Jazic who is the coordinator of the Małopolska Mountain Running.
The fact that the celebrities took part in the event did not intimidate the regular participants of the Małopolska Mountain Running. The running masters, Izabela Zatorska and Andrzej Dlugosz, won once again. Just before the race started, Izabela Zatorska was thinking about the next year's run.
- I think that next year it could be a good idea to attempt to organize a run along the entire length of the a ski slope, and not just for its parts, as it is now. The aim of the next year running may consist in reaching the ski lifts. The racing would be shorter but in the same time more challenging. This is only a suggestion. I have already discussed it with the Running Festival Organizers and I have been ensured that such a proposal will be certainly taken into account - Isabela Zatorska, Polish mountain race champion, informed our portal.
The Parkowa Mountain Run (taking place in the framework of the Running Festival) took place just an hour before the qualifying Małopolska mountain run did so. Grzegorz from Wroclwa was one of the 57 athletes who took part in it. - This is a warm-up before the Lifetime Ten by TAURON. In my case the run did not require more training. Nevertheless, the Koral Marathon is my priority. This will be the difficult route – he said to our reporter at the start point.
The masters, Andrzej Dlugosz (what a fit man!) and Dominika Wisniewska - Ulfik turned out to be the winners. Dominika treated her taking part in the race a good training before tomorrow's Uphill-Downhill World Championship. Anna Celińska, another Polish representative in Krynica competition, decided to take part in a run being a part of the Małopolska Mountain Running. 
See also:
---